Friday, July 15, 2005 starting at 6 pm and continuing into Saturday
Arrive about 6 pm Friday, July 15, 2005, Michael's birthday.
Bring plenty of food and drink for potluck celebration.
Bring camp chair, plates, utensils, and drinking mug.
Remember warm clothing, camping gear, musical instruments.
Plenty of space for overnight camping-bring your own supplies.
Please keep your pets under control at all times.
There will be live music at the stage (with sound system), drumming, a campfire celebration, and scattering of his ashes.
Directions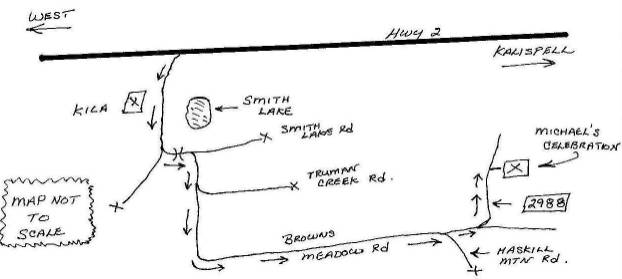 Go west from Kalispell on Hwy 2, about 10 miles, to Kila (turn left off highway).
About a mile past Kila, turn left, cross bridge, then turn right on Browns Meadow Rd. Follow Browns Meadow Rd for just over 6 miles.
Just past mile marker 6, turn left on Forest Road #2988.
Go about a mile and a half, then turn right for Michael's celebration.